Using a combination of Fat Freezing and HIFU our Face Sculpting treatment is perfect to help tighten up that double chin!
Starting with an appointment of Cryolipolysis (Fat Freezing) to begin the Face Sculpting journey, we will look to reduce the fat cells to the neck and jawline. In a separate appointment you will be treated with a Hifu (High Intensity Focused Ultrasound) session aimed to boost collagen production and tighten the skin

HIFU delivers warm pulses of high-intensity, focused ultrasound energy deep beneath the surface of the skin, causing the muscle layer to contract. This treatment is designed to help improve the appearance of firmness in the facial muscles and encourage the production of collagen.
By using these two non-invasive treatments in conjunction you can look forward to:
Sharpened jawline, tighten the jowls, and chin;
Aims to combat the signs of aging by removing the appearance of sagging skin;
Designed to stimulate collagen production.
Our Face Sculpting treatment is a fantastic alternative to surgical facelift procedures and offers a cost effective package of two of our most popular treatments.
View full details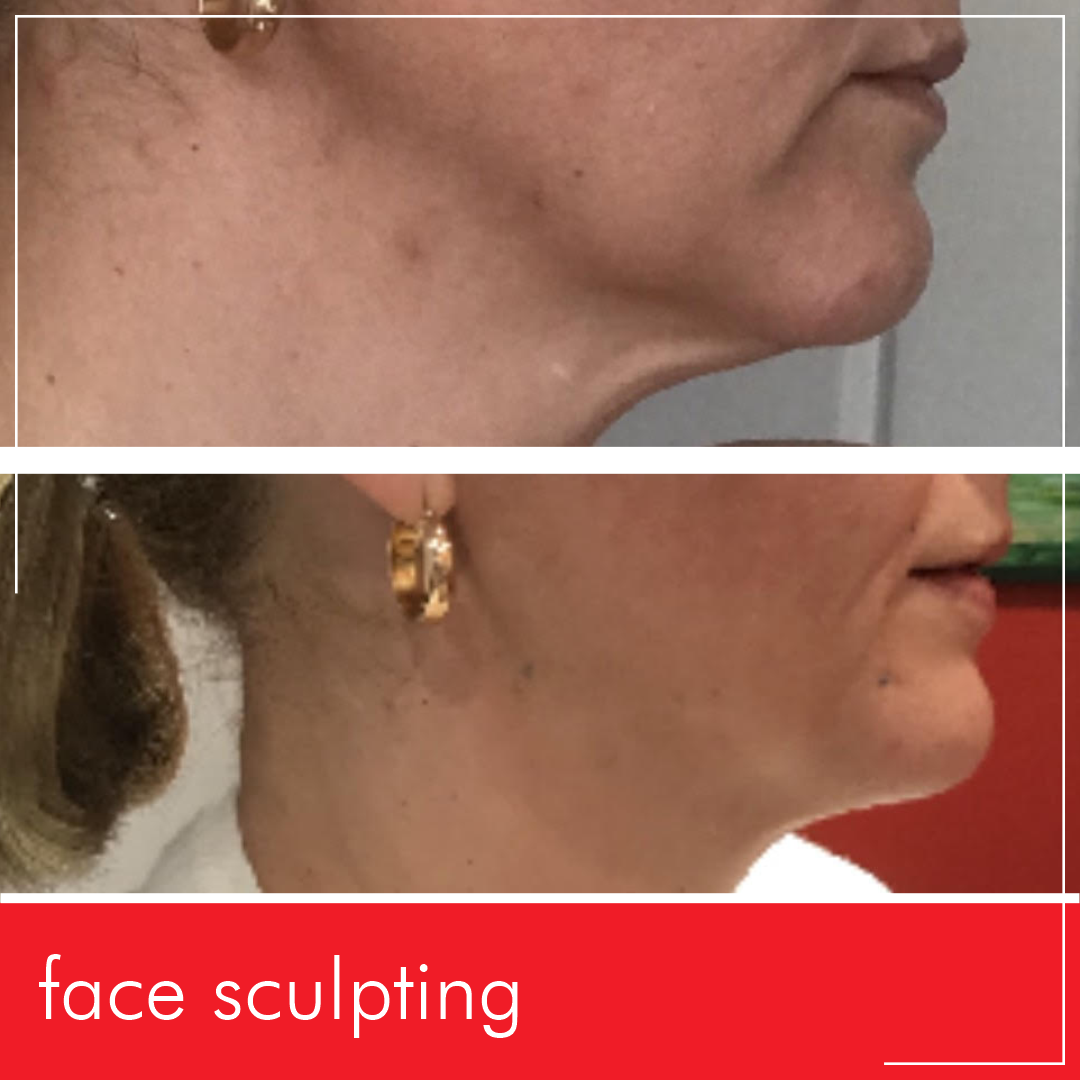 Face Sculpting Options & Pricing
Lifts & Tightens

Targets Stubborn Fat

Body Sculpting
Collapsible content
What to expect at your treatment?
After Care

Your skin may be sensitive and have slight redness after your treatment. We recommend avoiding direct sunlight to treated areas for 24-48 hours after your appointment.
Avoid alcohol for 24-48 hours after and make sure to increase water intake.
You may experience some bruising from the Fat Freezing treatment, this typically disperses after a few days. After the Fat Freezing component we suggest massaging the area often for the first few days after the treatment.
How many treatments will I need?

This will vary for each individual and we suggest booking for a complimentary follow up consultation to discuss whether any additional treatments will be required.
How long until I see results?

This can vary for every individual, but typically you should start to see results from 4-6 weeks with optimal results at the 10-12 week mark.
Get the best out of your treatment
Come See Us

Book for a complimentary consultation prior to ensure this is the right treatment for you.

Hydration

Hydrate before attending your appointment to prepare you skin and body is recommended.
Book with us
Book Online

use our online booking system to easily and quickly schedule your appointment

book online

Email Us

not quite sure how to book online or have questions? get in touch via email

email us

Call Us

want to speak directly to us? get in contact via phone or txt message.

call us